November 2017
TRITON's First Ever Talk in Ireland... was in Seahorse Aquariums!
Big thank you to all who attended the Triton talk last Saturday. What an amazing turn out! We made history too! It was the largest group of Irish Reef-Keepers, AND the largest group of Triton users ever in one room together in the WORLD!
A huge thanks as well to all the lads from Triton who gave us such an eventful night - we'll get you back over soon for sure!
Keep an eye on our Facebook page for the video of the talk for those who missed it! :)
November 2017
Seahorse Aquariums Teams up with The Seahorse Trust!
We would like to thank everyone for coming out to our Seahorse Conservation & Keeping talk last Saturday - we had a fantastic turnout! We hope you had a good time and found it interesting/educational. What kind of 10 year birthday celebration would it be if we didn't talk about the creature that got us to where we are today? ;)
We would also like to extend a huge thanks to our friend Neil Garrick-Maidment from The Seahorse Trust for being our speaker. We really enjoyed listening to all you had to say - and we learned so much! We'll have to get you back sometime in the near future :D
October 2017
HAPPY HALLOWEEN!
Best Halloween costume of the year HAS to go to our wonderful little customer Chloe! She dressed up as Nemo's Dad (Marlin) just for us! How amazing is that!
Thanks for bringing some Halloween cheer into Seahorse Aquariums Chloe - you're the coolest clownfish we've ever seen! :D
We hope everyone had a happy, safe, and chocolate-filled Halloween ;)
October 2017
George Farmer - Aquascaping 101!
Thanks to everyone who came out to see the amazingly talented George Farmer last Saturday, we really hope you enjoyed the event - we sure did!
Not only did he review our store, he also took some amazing video footage of our tank, did a full-day demonstration on aquascaping, and then joined us for a pint of the Black Stuff ;)
His tank-work was beautiful and we learned a heck of a lot. For those of you that couldn't make it to the event, check our previous post on our Facebook page, where you can see George work his magic for a full 2 hours!
You're welcome back in Seahorse any time George - in fact, we hope to see you back again soon :D
August 2017
Under The Sea Event - The Square Tallaght
What an incredible event! Thank you to everyone who came out to see us in The Square Tallaght last Saturday! We had talks and feeds, touchpools and competitions, microscopes and artifacts, pirates and mermaids etc! We hope you had as much fun as we did! And if you couldn't make this event, don't worry! We have LOTS more planned between now and December (for the kids AND for the grown-ups!). So stay tuned, an announcement about these will be coming shortly ;)
August 2017
Vote for Us!
It's that time of year again! That time when we need you to represent us as we go head-to-head with all of the other fish-specialist shops across Ireland and the U.K. If you think we do a good job here at Seahorse Aquariums please make sure you vote for us here: http://www.practicalfishkeeping.co.uk/pfkvote
It really does make a difference to us, and everyone here would be incredibly grateful for vote.
Thank you for all your support. We truly do have one of the best customer bases in Ireland! (in our humble opinion ;) )
Our thanks,
The Seahorse Aquariums Team
July 2017
SHARK WEEK!
A HUGE thanks to everyone who came out to make our Shark Week Finale event so enjoyable! The atmosphere in Seahorse Aquariums was buzzing for all of our staff. We didn't expect so many of you to come out - so we hugely apologise for the cramped space! But we had so many interested children and incredibly bright questions which just lit up our day. The future of sharks are in good hands!
We'd also like to say a huge thanks to our very bold Sharkie who kept everyone on their toes! And to our wonderful face painter from Funny Faces Face painting.
Until next year, Happy Shark Week!
June 2017
Seahorse Goes Green!
Seahorse Aquariums is going Green! You asked, and we listened - we now have 2 different bags for you to choose from at the till - and both will help to protect our oceans! The first, some of you might recognise. It's our reusable thermal fabric fish bag which will keep coldwater fish cold, and tropical fish warm. Because it's reusable, just bring it into us every time you're coming in for livestock and we'll safely pack your fish inside without using any more plastic bags than we need to. It's also a "blackout bag" meaning your new fish's stress levels will stay low as they swim safely in the dark (fish love the dark when being transported!).
The second is our new biodegradable polythene bag. Not only does this bag start to biodegrade once it hits a light / heat source, but it's also compost-able! This means if one of our bags now finds it's way into the ocean it will be fully broken down within 3 months, leaving no harmful toxins or tiny plastic bits behind. It also protects fish, birds, and sea turtles that may get caught in our bags, as now they won't have the bag attached to them for life, but just 14 weeks! Hallelujah!
We're thankful for all of your comments and suggestions on how to make Seahorse Aquariums more ecofriendly! Keep 'em coming!
You can also buy the fabric bags directly from our website: http://www.seahorseaquariums.com/Seahorse-Aquariums-Bag/5909
May 2017
Miami Shark Adventures!
Today one of our staff members, Eimear, is off on an exciting journey to Florida to assist in some valuable shark research for the University of Miami and the Coastal University of Carolina. She will be catching sharks, tagging them, collecting DNA samples and then releasing them back into the ocean to monitor their movements, and send their DNA off for analysis.
As you know, our owner and founder Kealan Doyle has a huge passion for Seahorses. (We may be called "Seahorse Aquariums" but all creatures in the ocean are important to us!). Whereas Eimear's passion has always been sharks. In fact, she's the only ambassador in Ireland for the Sharks4kids program (where she visits primary/secondary schools across the country to teach students about sharks, their importance to the world, and to get rid of their "man-eating" stigma).
We're really looking forward to see what work she gets involved in over in the States. She's gone over with her camera - so expect photos and videos of her work to come!
May 2017
Training Day
We have a motto here in Seahorse which is "every day is a school day" - because we're constantly learning and trying to expand our proficiency in fish keeping and care so that we can pass all of it on to you. We'd like to give a huge thanks to the incredibly knowledgeable Dave from Seachem Laboratories, Inc. He came all the way to Dublin from America to broaden our knowledge on water quality, care, chemistry, and fish food. Cheers Dave!
December 2016
Change to our Open Hours!
Great news folks! We changed our opening hours to accommodate everyone's needs. It's official we OPEN LATE... Every Thursday is #lateThursday for the Seahorse Aquariums Team and we'll be here until 20:00. Make sure to pop over and say a quick "Hi"!
September 2015
PFK Awards
We are delighted to get 8 awards in the 2015 PFK awards.

- Republic of Ireland Retailer of the Year – WINNER
- Cichlid Retailer of the Year – WINNER
- Marine Retailer of the Year – WINNER
- Oddball Retailer of the Year – WINNER
- Retailer of the Year – RUNNER UP
- Shrimp Retailer of the Year – RUNNER UP
- Catfish Retailer of the Year – RUNNER UP
- Plant Retailer of the Year – RUNNER UP

We would like to thank everyone who voted for Seahorse Aquariums and gave us the opportunity to win 8 awards in the Practical Fishkeeping competition. No aquatic shop has ever won so many awards in the PFK competition and we owe this to you guys! Without you we would have never achieved this accomplishment. We are grateful for all your support and love. THANK YOU!
May 2015
Aquaponic System
Last month we had one of the most exciting, challenging and highly innovative projects in Ireland. We installed an Aquaponic system – the first of its kind- at the Sallins National School. A great team, a great weather and a bags of positive attitude and enthusiasm helped us bring this one of its kind system to more than 700 students and parents.
Some of you are probably wondering what is Aquaponics and how does it work? Let's shed some light to what an aquaponic system is! Aquaponics is the marriage of Hydroponics and aquaculture or fish farming. So what is Hydroponics? Hydroponics is the growing of plants in water without soil. With hydroponics the plants are fertilized by adding nutrients to the water. By using an aquaponic system, the plants get the nutrients they need from the waste of fish. Taking a step further back in the process, when we feed our fish they produce waste then plants can utilise the waste as food while cleaning the water in our aquarium. Just brilliant!
We can grow almost any type of plants in an aquaponic system. However the most interest lies in food production. To understand why here are some simple aquaponic facts: For this example we'll use the world's most commonly farmed freshwater fish - the Nile Tilapia. Tilapia are one of the best suited species to farm using aquaponic methods due to their fast growth and excellent tasting white meat.
1) For every 1 Kg of Tilapia to be produced you must feed 1.6 - 1.8 Kg of fish feed. With standard aquaculture methods fish are either farmed in low density ponds or in aquaculture tanks which rely on large water changes to remove fish wastes.
2) With the addition of aquaponic plant beds we gain the ability to remove the fish waste from the water and convert it into edible plants. For every 1.8 Kg of fish feed we now can harvest 1 Kg of Tilapia + 10 - 20 Kg of edible vegetables and fruit!!
3) Aquaponic fish farming uses 2% of the of the water standard agriculture! With a balanced aquaponics system the plants are able to utilise the fish wastes as fast as they are produced, resulting in a fish farming system that does not rely on water changes and produces vast quantities of edible vegetables as byproduct.
4) Aquaponics has a 25% higher production rate than hydroponics. Studies conducted in Canada compared the growth rates of two systems with equal nutrient levels, one hydroponic and one aquaponic. They found not only did the aquaponic system produce 25% more harvest weight than they hyrdopnic system, the aquaponic veg also contained much more vitamins and minerals. This can only be explained by the benefits of the beneficial fungi and bacteria in the aquaponic system. Hydroponic systems are sterile by comparison, lacking these micro organisms.
5) Aquaponics is less work. With an aquaponic system there is no water changes and no soil. This means far less back breaking work lifting heavy pots or buckets of water. So you can grow food at home with much less work than traditional gardening and get a few tasty fish to eat too. Happy Days and Tasty Dinners!
6) It works on your freshwater aquarium! You can setup and aquaponic aquarium in your home, right in your kitchen and enjoy the relaxing effect of watching fish as well as the benefits of eating fresh tasty herbs and vegetables. You can keep any fish that is suited to a temp of 23-25 C and pH 6.8-7.0 in an aquaponic system. In conclusion, one can harness many benefits through the aquaponics. Not only you get delicious, home-grown, organic vegetables, but also you do it in the most cost efficient and environmentally friendly way. So if you want to set up your own aquaponic system and you have any questions? Just ask us!
December 2013
The Square – Tallaght
Some of you may have noticed a few of our staff have been missing over the last month. Don't worry they haven't been slacking off. They were working on the reef aquarium now situated in The Square in Tallaght. Due to health and safety reasons the aquarium had to be a nightly build. This was new for us, but we love a challenge. A mixture of caffeine, hard work and excellent teamwork led the Seahorse Aquariums team to produce one the best state of the art public reef aquariums in Ireland. This aquarium is one you don't want to miss. So head down to The Square in Tallaght and take a look.
November 2013
EleV8
Kealan headed back to the wilderness to help Elev8's Green Team, to answer those burning environmental questions Ireland's young people have been asking. The Green Team; is a team of environmentally conscious kids who came together to help teach the young people about the world around them. To encourage children to get away from the front of the TV and investigate the wilderness around them. In each episode they contact an expert to answer all their questions. Kealan took part in three episodes, on ponds, bats and woodland. They were well received by all and got a great reception. Kealan went into the studio and spoke live on Elev8 about ponds, bats and woodland. Kealan would like to thank everyone involved in both the Green Team for such a great experience.
November 2013
PFK – Shop of the year
We are delighted to take this award for the first time in 2013. Many thanks to all customers that voted or us More info here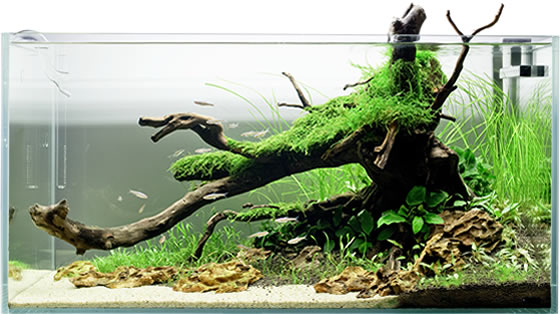 November 2013
PFK Dream Aquarium
Well done to staff member Darren who got a write up for his planted aquarium in this month's PFK magazine. Well done Darren, Which tank will be next to feature? Will we see an entry for the world Aquascaping championships? See full details of the aquarium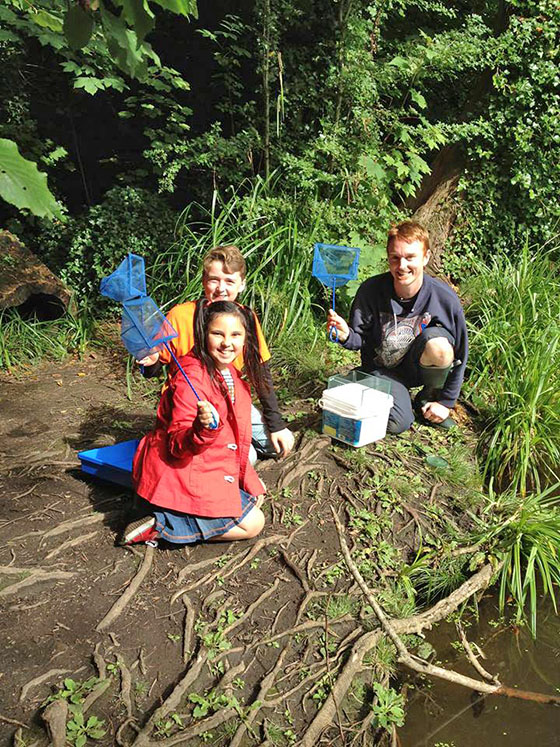 October 2013
RTÉjrs - Why Guy
Kealan was also involved with RTÉjrs. Why Guy? This is a science series dedicated to young children aged 6 and under. The popular puppet Albie and all his friends answer all those curious questions your kids have such as why do pigs have curly tails? What is a platypus? Or Why do we go red when we're embarrassed? Kealan took part in three episodes this season helping Albie answer the major questions Are Seahorses Real? Why Are Puffer Fish so Puffy? And Are Jellyfish Made of Jelly? The episodes were a great success. Kealan would like to thank everyone involved in both the Why Guy? For such a great experience.
September 2013
Foto Wildlife Park
The tropical room at the Fota Wildlife Park in Cork is getting revamped with a brand new aquatic River to Reef exhibit built by Seahorse Aquariums. This exhibit will be split into four sections, illustrating the progression from a Freshwater environment to a Marine environment. The highs and lows of this epic build are all being filmed for our new show, which you can look forward to seeing in the future.
September 2013
Masterchef
Jimmy, entered into Irish Master chef, but upon tasting his food they informed him he should stick to his day job. So he did and built Master chef their very own aquarium.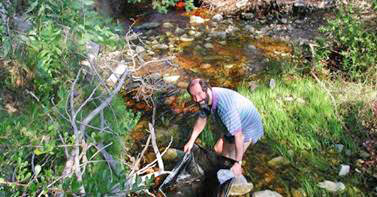 June 2013
Heiko Bleher
Great surprise today, Heiko Bleher, Ichthyological Explorer is here visiting Seahorse Aquariums.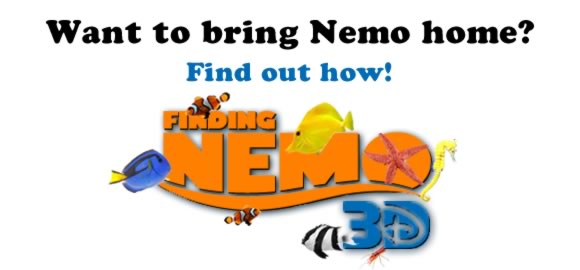 March 29th 2013
Nemo 3D Irish wide advertising campaign
Seahorse Aquariums embark on a Irish wide advertising campaign at all cinemas in Ireland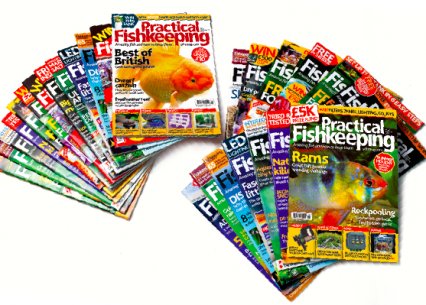 March 21st 2013
PFK magazine review
Seahorse Aquariums welcome PFK magazine whilst doing a shop tour of Ireland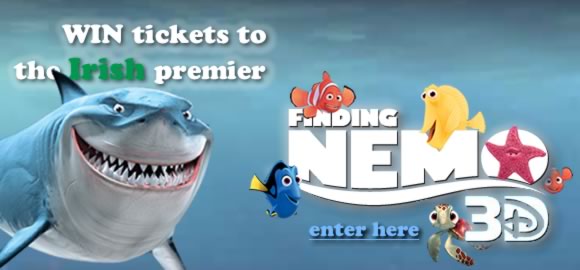 March 15th 2013
Nemo 3D Competition
Seahorse Aquariums with Disney launch a competition with give aways to the premier to Nemo 3D in Ireland as well as Family passes to Galway Atlantaquaria as well as Nemo teddies. - see our competition page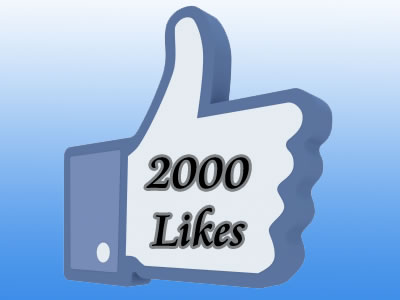 February 23rd 2013
2000 Facebook likes
Seahorse Aquariums Facebook page now has over 2000 likes. Thanks for everyone who enjoys our banta on facebook. If your not joined - Make sure you joined up.
February 6th 2013
Spiny Creatures
This week on Marine Scene, Kelean looks at the world of Spiny creatures from the sea.
January 30th 2013
River Pollution
This week on Marine Scene in a special extended episode, Kealan looks at rivers - and shows us the differences between clean and polluted ones.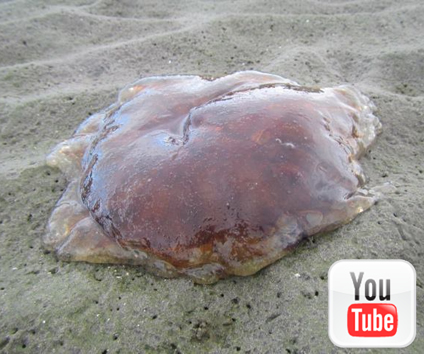 January 17th 2013
Jellyfish
This week on Marine Scene, Kealan and Bill investigates the jelly like creature that is invading our shores "Jellyfish".
December 18th 2012
New Shop Build
Building starts at Seahorse Aquariums to expand the shop to make more room for fish tanks, products and people.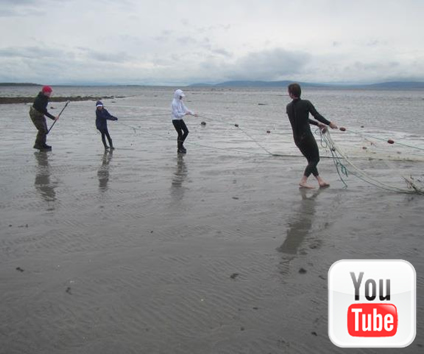 December 14th 2012
Sandy Shore
This week on Elev8 Kealan is exploring our sandy shore coastline using the seine net. Sisters Bryna and Caoilín Milton give Kealan a helping hand and learn a quite a bit along the way.
21st November 2012
Bioluminescence of Plankton
Kealan's on RTE's elev8 Program on Marine Scene looks at the bioluminescence of Plankton. Check out the episode around the shores of Ireland. Check out the captured plankton - straight out of the Sponge bob's show. Marine Scene starts at 8min37sec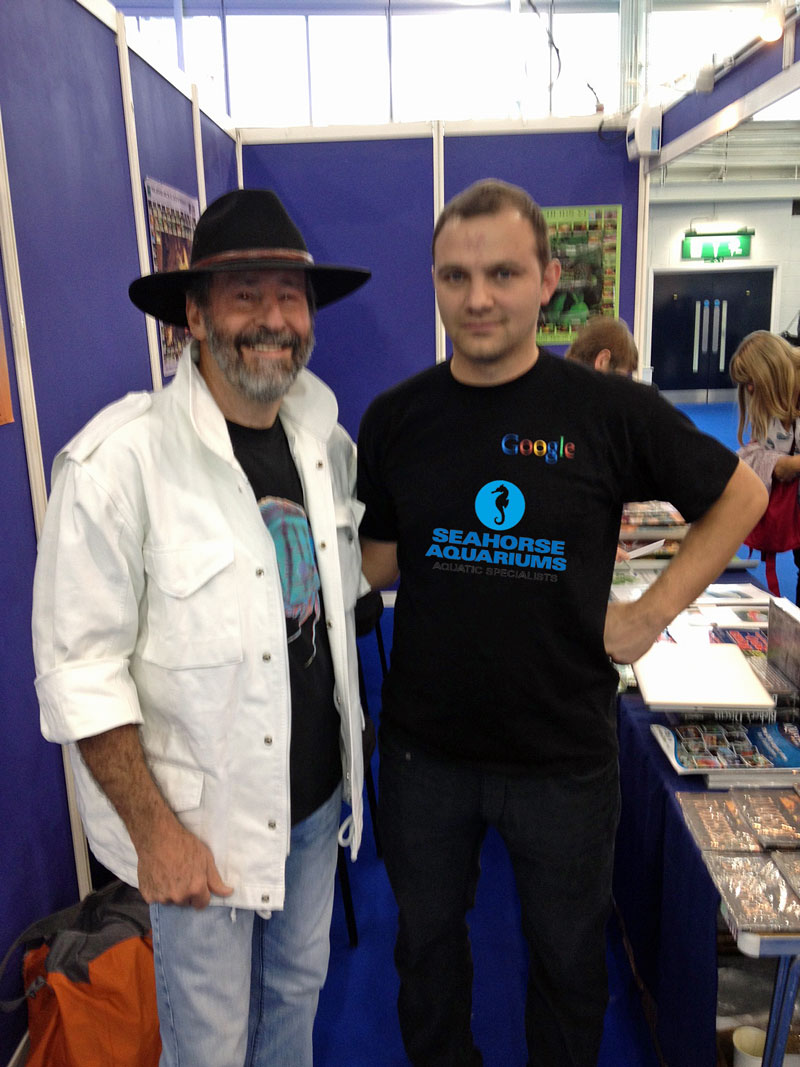 10 - 11th November 2012
Aquatics Live show at London Olympia
John our Freshwater specialist travelled to London for the Aquatics Live show at London Olympia to see new products and also talk with some of the industry leading specialist. Pictures here with Heilko Bleher who constantly does aquatic expeditions to find new species of fish and to look at natural habitats - See more on Heiko's work on his blog.
7th November 2012
Invasive species
Kealan's on RTE's elev8 Program on Marine Scene looks at Invasive species. Looking at the turtle that have been let loose in the wild stream in Ireland. Check out the episode to watch Kealan doing the wiggle dance. Marine Scene starts 1:58 min - 13:50 min
24th October 2012
Seaweed
Kealan's on RTE's elev8 Program on Marine Scene looks at Seaweed. Check out how animals camouflage themselves with seaweed. Marine scene starts at 12:14 - 19:35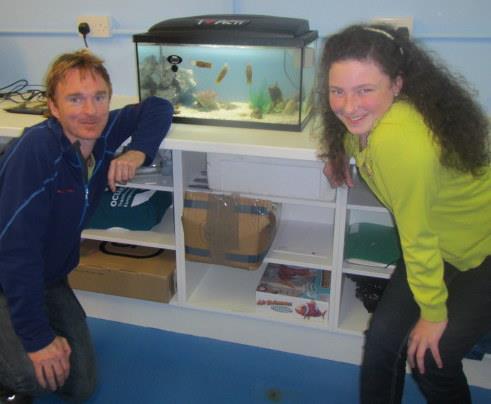 17th October 2012
Mermaid purses
Kealan's on RTE's elev8 Program on Marine Scene looks at Mermaid purses. Looking through the beaches in search of shark and sting ray eggs. Marine Scene starts 10:30
10th October 2012
World of Seaweed
Kealan's on RTE's elev8 Program on Marine Scene looks at the world of seaweed. Marine Scene begins at 11:18 and ends at 18:14.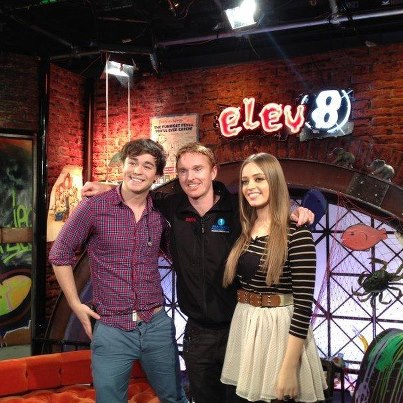 3rd October 2012
Sea Shores of Ireland
Kealan's debatu's on RTE's elev8 Program "Marine Scene". Kealan shows the young interested kids of Ireland around the sea shores of Ireland and answers all types of marine questions. The scene begins at 10:30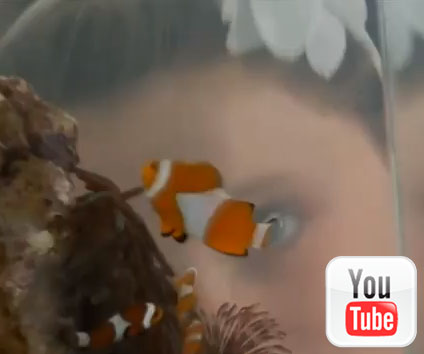 27th September 2012
Seahorse Aquariums Featured on RTE
Seahorse Aquariums were featured on the RTE program "The Secret life of Family Pets" where a young girl shows her tank with Clownfish that are her pets. Our shop and hatchery are featured in the program where we breed clown-fish in captivity to reduce pressure from wild caught fish.
22nd September 2012
"The Seahorseman"
"The Seahorseman" documentary, narrated by John Hurt was selected in the Kuala Lumpur Eco film festival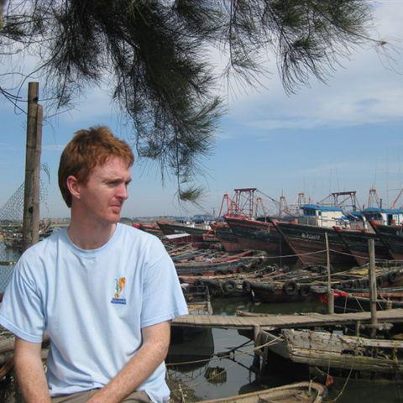 24th August 2012
The Seahorse Man Documentary on Eden TV
The Seahorse Man Documentary narrated by John Hurt Goes live in the UK on Eden TV. The program was run over 20 times and we got great coverage for the Save our Seahorses Campaign from UK public.
19th August 2012
Judging at the Annual Irish Open Fish Show
Seahorse Aquariums staff member Darren Dalton, also chairperson of the Irish Tropical Fish Society is judging the fish at the annual Irish Open Fish Show in Tallaght Dublin. Congratulations to everyone who attended the show.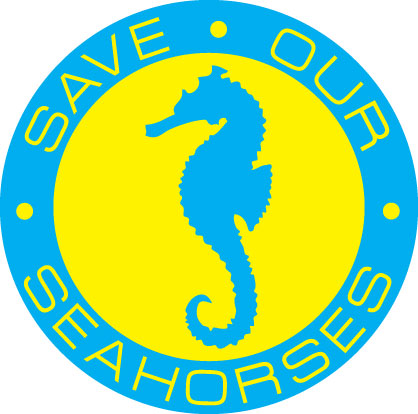 10th August 2012
Global Campaign to Save the Seahorses
Seahorse Aquariums launches our global campaign to save the seahorses from extinction. Save our Seahorses officially launch our campaign website to raise global awareness of the problem the seahorse is facing in the wild. - www. saveourseahorses.org
5th August 2012
In the UK Sunday Mirror
Time's short for the Seahorse article published in the UK Sunday Mirror newspaper by Sarah Murphy before the screening of the new Documentary to launch on UK TV screens.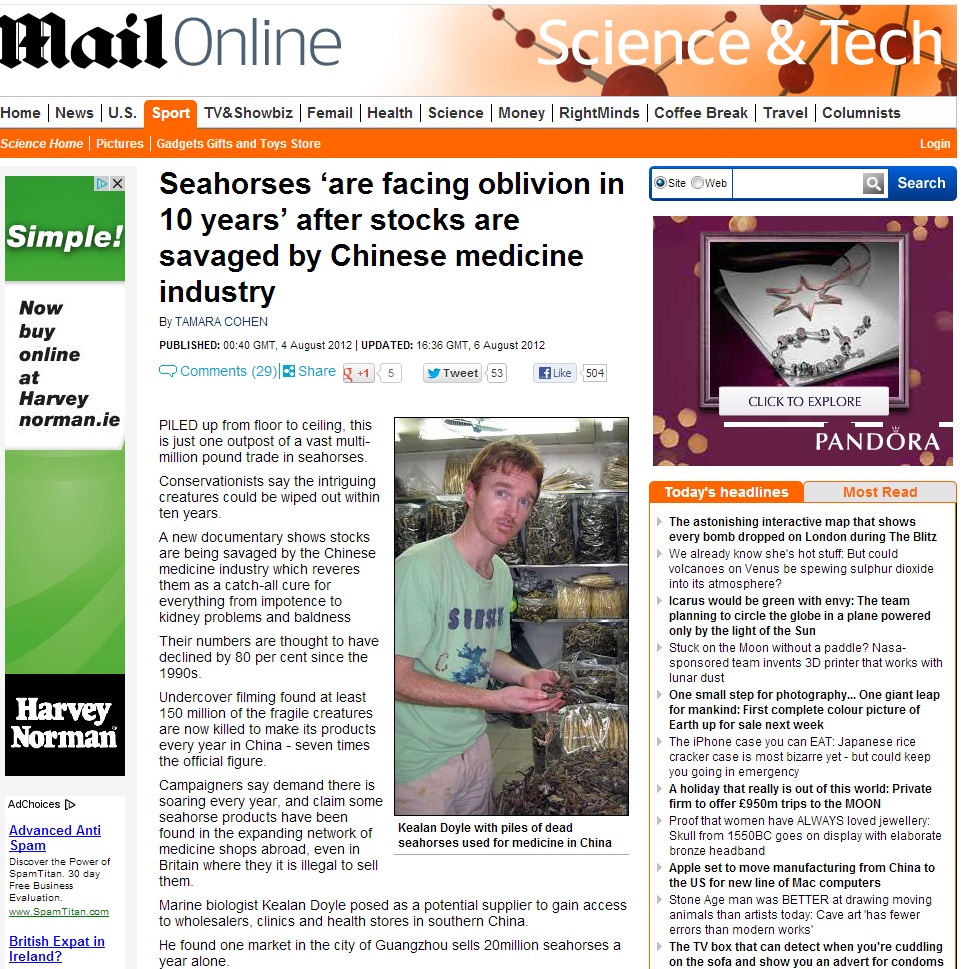 4th August 2012
The Seahorse Is Facing Oblivion
The seahorse is facing oblivion in 10 years article in the UK Daily Mail on-line website by Tamara Cohen. This article explains the setting for "The Seahorse man" 1 hour documentary narrated by John Hurt and the information uncovered as Kealan Doyle is the first westerner allowed in to the Chinese factories to uncover the amount of Seahorses that are used in Traditional Chinese medicine. See the full article here.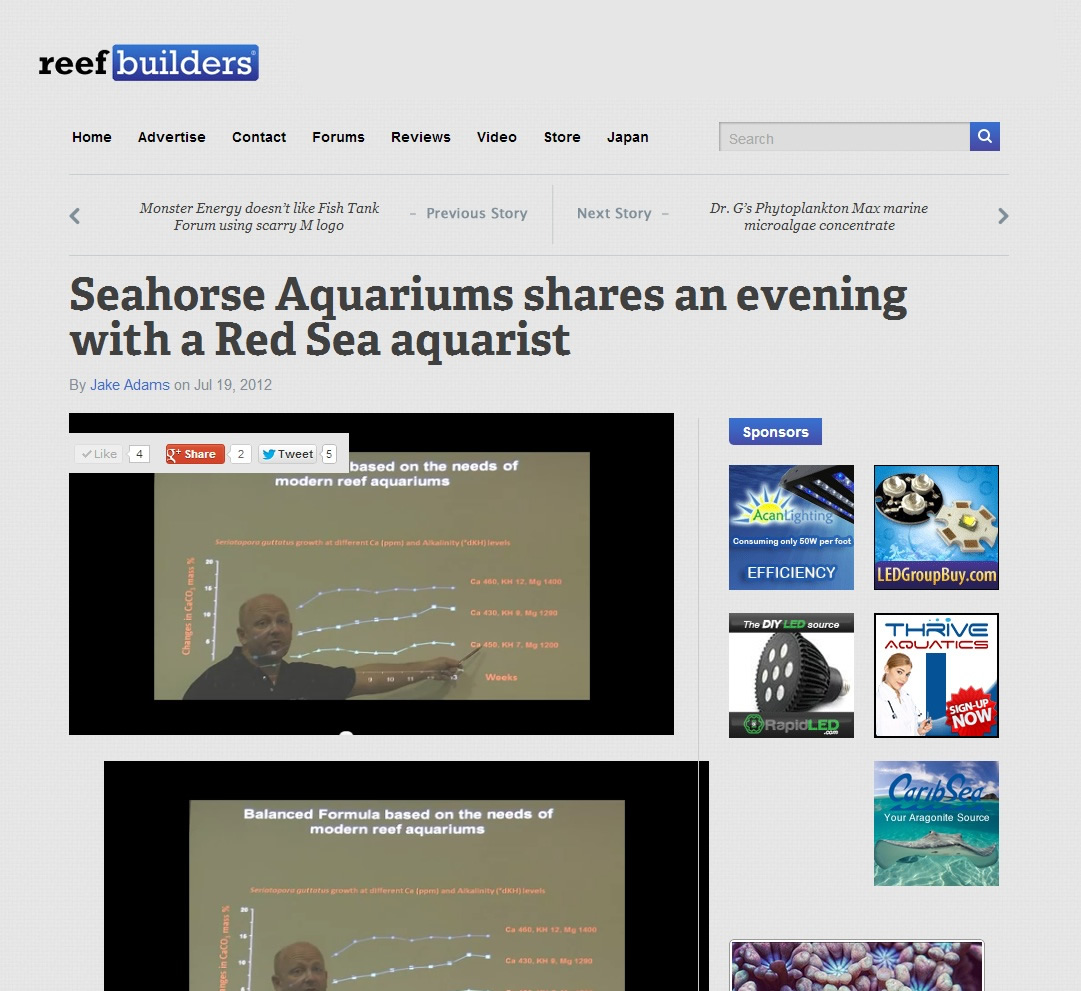 19th July 2012
Reef builder
A US based Reefing blogger's site had posted an article about the Red Sea event that took place in Ireland with the Red Sea team. Have a look at the post here.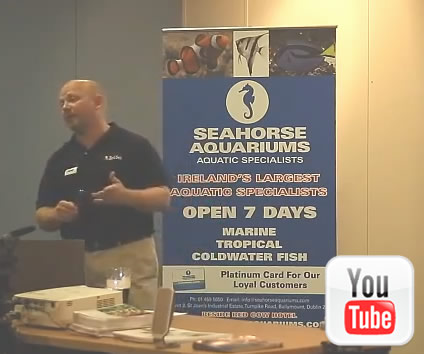 28th June 2012
Seahorse Aquariums Event
Seahorse Aquariums stages an event with Red Sea with over 80 people attending. The night was an informative evening with representatives from Red Sea explaining and going over the basics for having a great marine reef tank. - The event was recorded and available on our YouTube channel. Part 1 | Part 2
7th June 2012
Trip to Cambodia
Kealan (our very own Seahorse Man) has returned from a very successful trip to Cambodia. While there, not only did he help teach locals how to cultivate (fish farm) seahorses instead of fishing them, but he also helped do some research on it.
The local seahorse population and met with governmental officials to talk about how best to protect the seahorses found off the coasts of Cambodia.
17 May 2012
Interzoo 2012
Kealan, Dan Andrew and Kit all head over to Germany to Interzoo 2012. Interzoo is held every 2 years and is the largest trade pet show in the world. With all supplier from around the world showing off their new products, fish and technology. Check out our pictures page to get a glimpse of what we got to see.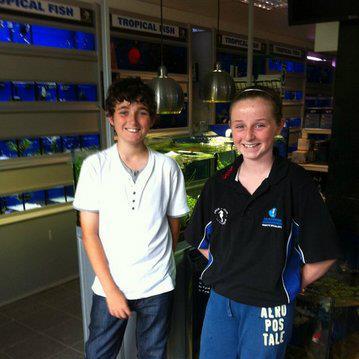 1st May 2012
Young Marine Biologists
RTE has A special collection of Kidspeak films, which captured children on camera all around the country over a period of 18 months. Aged two to 16, they sing, play music or talk about their hobbies. We have two young budding marine biologists that came to Seahorse Aquariums to do their filming - Have a look at Riona and Dara at Seahorse Aquariums.
19th April 2012
Our Aquaone Showroom
Seahorse Aquariums open up our Aquaone showroom for displaying all new aquariums. We cleverly laid out display room has over 15 tanks displayed in a lounge room style setting to give the customer a feel of what can be achieved in their own lounge room.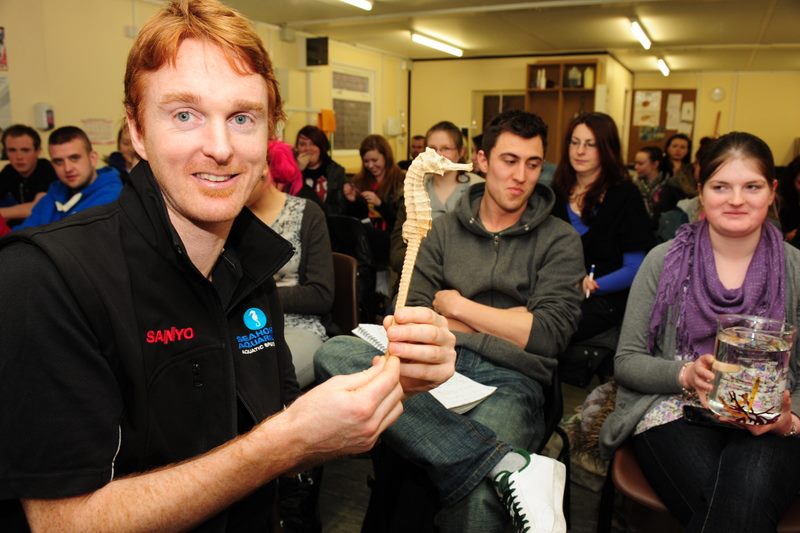 3rd April 2012
At the Dun Laogharie College
Kealan gives a talk to the Dun Laogharie college on seahorse and marine biology.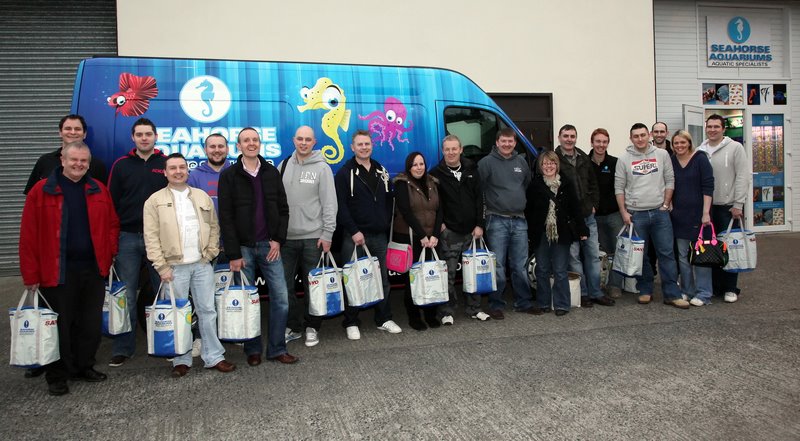 28th February 2012
Welcoming NIRC Members
Seahorse Aquariums welcome 2012 Members of the NIRC - Northern Ireland Reef Club to our store for their first of many visits down south in the mini bus to see the stock at Seahorse Aquariums.
16th February 2012
Digital Reefs Reviewing Seahorse Aquariums
Digital Reefs a UK blogger site that reviews corals, stores and new products, did a review on Seahorse Aquariums and featured our coral shipments that we receive. Click here for the full review from their website. Also, Digital Reefs is a great source for information where Seahorse Aquariums web also get lots of information and images for our own website.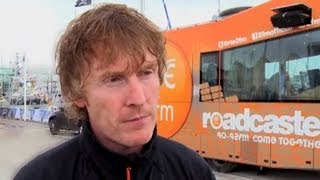 8th February 2012
"Ban the Bowl"
Kealan is on the breakfast radio show with Hector to start a campaign called "Ban the Bowl" to help stop people keeping goldfish in a small aquarium bowls without filters.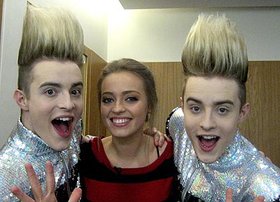 25th January 2012
Unusual Creatures
Kealan is on RTE's elev8 show explaining recent deep sea discoveries and showing some unusual creatures from our shop.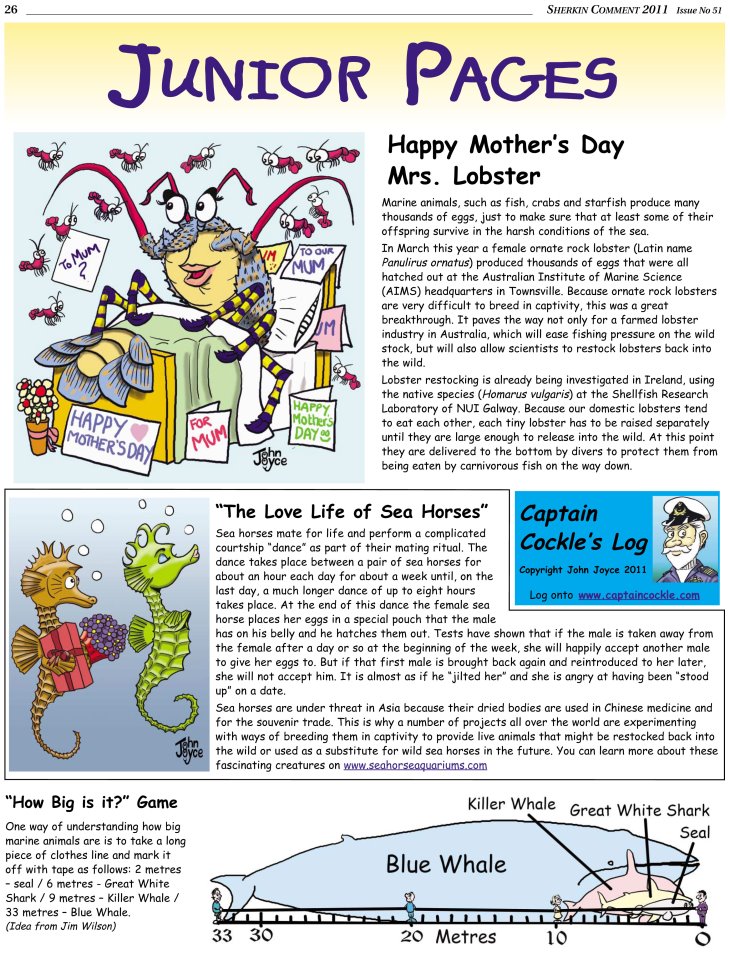 July 15 2011
"The Love life of Seahorses"
Seahorse aquariums help write a piece on seahorses for the Sherkin Comment newspaper in the Captain Cockle's log titles "The Love life of Seahorses".
10 June 2011
Ringo the Octopus
Newstalk 106– 108 FM & Seahorse Aquariums and are delighted to bring you Ringo the Octopus to predict the Ireland General election 2011
Ringo the male octopus was born on the 27th of March 2010 in Weymouth England and is the common octopus (Octopus vulgaris).
He is a cousin of the infamous psychic octopus "Paul" who became famous when he predicted every one of Germany's results in the 2010 FIFA World Cup.
Kealan Doyle who looks after Ringo said the following leading up to the prediction. "We decided to give Ringo plenty of time to make his most important prediction ever and the big news is that he has emphatically chosen Enda Kenny and Fine Gael to lead the next government. He was actually in both jars indicating a FG / Labour coalition but after some deliberating he moved completely into the Enda Kenny jar and has not left it since.
27th April 2011
Seahorse Aquariums Shark Tank in Sharkeys Cuts
Seahorse Aquariums have built a large shark tank in Sharkeys Cuts for Kid's hairdressers in Malahide Dublin. The tank is up and operational and there is a Shark egg in the waiting to be hatched. There was a competition on the radio for children to guess the day the egg would hatch. The winner of the prise kindly donated the aquarium that we offered for the prize to the Temple St Childrens hospital.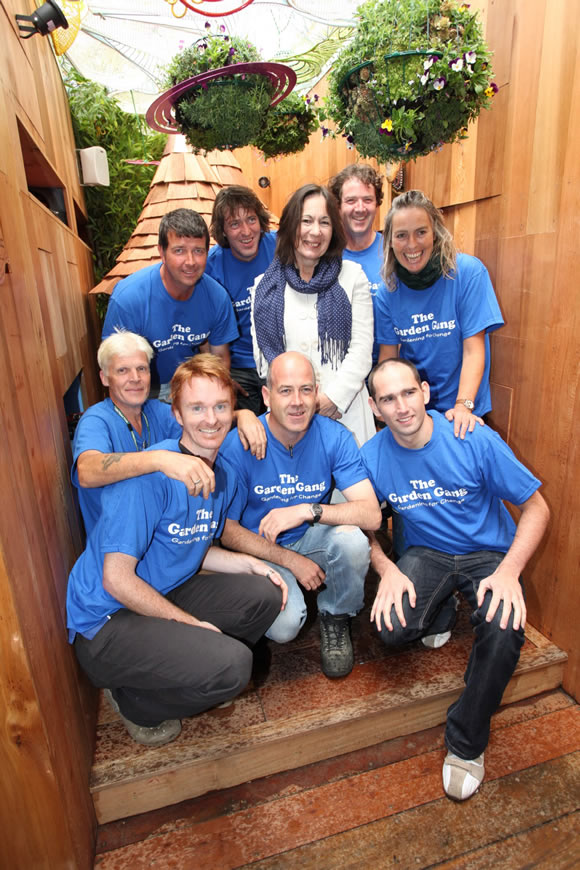 17 December 2010
Seahorse Aquariums featured on "Diarmuid's Garden Designs"
Seahorse Aquariums appeared on a television program called Diarmuid's Garden Designs which were shown on RTE 1. The program follows the construction of an underground garden and "Seahorse World" in an 18th century coral bunker in Temple street children's hospital. This space under the road in Dublin's inner city was transformed from a waste area to a magical location for children in the multi sensory department of the hospital. The aquarium and all supplies we donated by seahorse aquariums and our suppliers.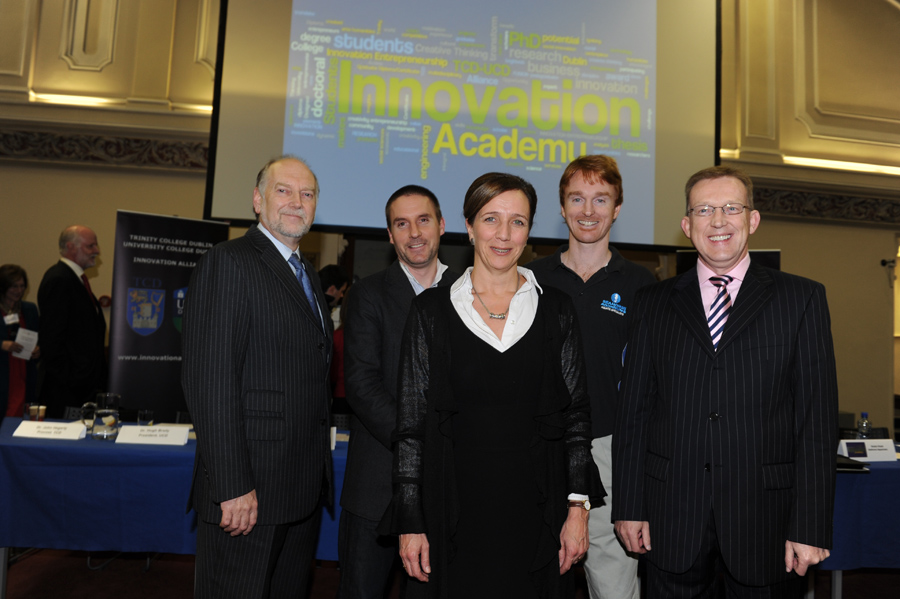 19 Novemeber 2010
At the Innovation Academy
Kealan Doyle of Seahorse Aquariums was invited to the official launch of the Innovation Academy. The Innovation Academy is the educational centrepiece of the Innovation Alliance. The Academy is a collaborative joint venture in PhD education that builds on existing resources and synergies between the two institutions and recognises the need for Higher Education to be a catalyst for innovation in Ireland. The keynote speech on the night was given by the vice president of Google International Mr John Herlihy. A panel discussion on the role of Universities in shaping innovation in Ireland followed, the panel consisted of the heads of Enterprise Ireland, IDA, Chamber of Commerce and Kealan Doyle.
14th September 2010
Temple Street Feast for the senses
Temple Street Feast for the senses - Article in The Irish Times about the opening of the new Sensory garden at the Temple St. Childrens hospital. Featuring the underground aquarium supplied and maintained by Seahorse Aquariums for the disadvantaged children. Read the article here.
18th July 2010
TV Rev
TV Review - The Sunday Business Post.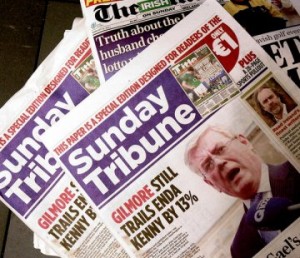 18th July 2010
Tank Goodness
Tank Goodness - TV Review of the Documentary by the Sunday Review Television Critic, Patrick Freyne. Read the review here.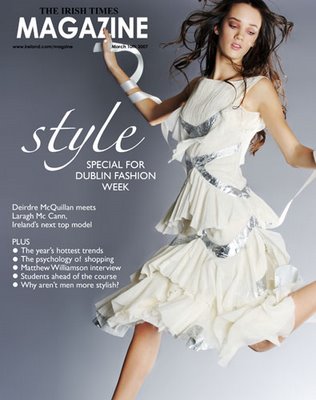 17th July 2010
Irish Times Review of the Seahorse Man
Irish Times review of the Seahorse man on television - See here how the program up against the Dragon Den show that building a business kealans way is a lot harder but a lot stronger than what the Dragon Den have as opportunities for business in the Irish market. See the full review here.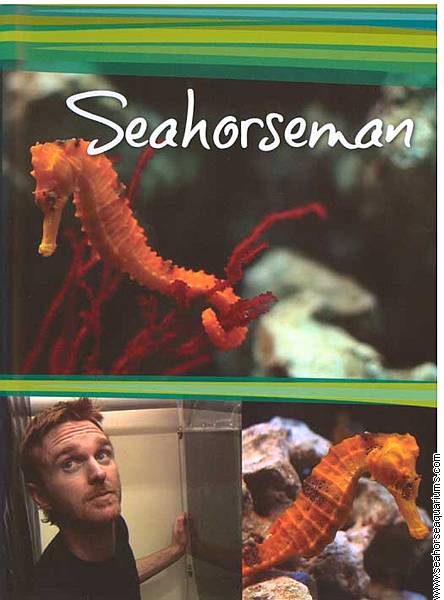 12th July 2010
The Seahorse Man on RTE
The Seahorse Man is shown on RTE television. The 4 part series – The Seahorse Man is aired over 4 nights. This is the making of 10 years of filming Kealan Doyle's epic journey to get to where he is today. If you missed this series – the DVD is available in the store to buy. See the TV commercial here.
12th July 2010
"Seahorses saved from abyss"
The Irish independent run with an article "Seahorses saved from abyss". The article covers the TV documentary that show's Part 1 of the 4 part series on RTE 1. See the full article here.
9th July 2010
Mooney goes Wild
The triple award winning radio show talks about the upcoming TV program on RTE 1.
3rd July 2010
"Saving the Seahorse"
The Irish Times - "Saving the Seahorse" Article published on the upcoming TV Documentary on RTE. See the article here.