Aquariums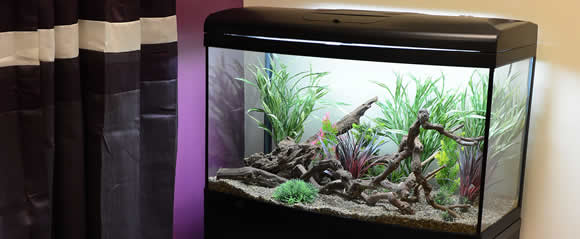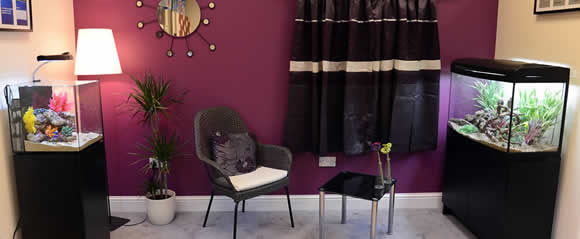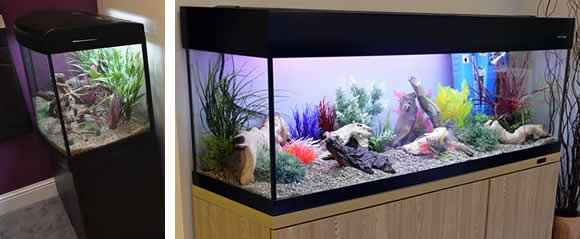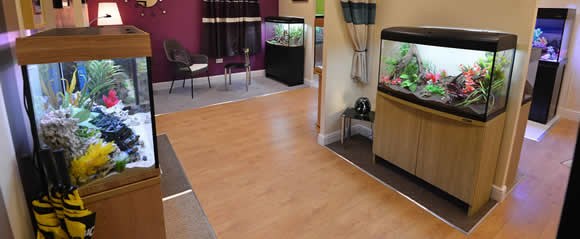 AquaOne has landed at Seahorse Aquariums. Give your fish a natural habitat in which to thrive with the range of Aqua One aquariums and fish tanks from the Australian company Kongs. Designed with the wellbeing of fish in mind. Aqua One believe the designer first and foremost must consider the well being of the fish by creating an aquarium system which provides as close as possible a natural equilibrium in which aquatic life can thrive. Secondly, but equally important, the aesthetics should ensure the aquarium becomes a centre piece in any living room, a piece of furniture you will be proud to own. With many models in the Aqua One aquarium range you're sure to find something to suit your home, your budget and fish keeping needs.
Seahorse Aquarium makes all of our Custom Aquariums on site. We are the largest and only insured aquarium builder in Ireland.
As each custom aquarium is bespoke due to the size, shape and finish - we are not able to have prices for each aquarium on-line. Once we have the requirements of your space and idea's we will come back to you with a price for the aquarium. It can be a room dividing aquarium, filling a space in a press or a free standing aquarium of any shape or size. Seahorse Aquariums do custom built aquariums for homes, hospitals, offices and just about anywhere you can imagine a fish tank. We offer a full installation service, all the way to fully maintained aquariums. If you have a dream aquarium, just inquire and we can make this happen for you.
Please be sure to check out the gallery page to see some of the work we have done for others.
From funky Marina Style goldfish aquariums to the Roma, Vicenza and Venezia glass aquariums, Fluval Aquarium have lots of features that will impress the beginner and also the advance aquarist. With the cool Fluval Chi with all of its neat ornaments and also the stunning Fluval Edge Nano Aquariums, there is something for everyone in the range.
The Fluval aquariums range and Cabinets are supplied with fluorescent lighting, twin tubes in most models, Fluval Internal or External Power Filters and Fluval heaters. Excellent great value with ongoing support from the worldwide Rolf C. Hagen company. The Fluval range of aquariums is mostly Italian designed and manufactured.
Juwel aquariums and cabinets offer classical style and are available in a wide range of sizes. Most Juwel, Trigon, Rio and Vision aquariums and cabinets come T5 lighting and an internal filtration.
Juwel Aquariums have a shape and size that will compliment any living room or office. Jewel Record Aquariums are a beginner rectangular model followed by the super Rio Aquariums. Bow fronted Juwel Vision Aquariums offer a fantastic view into an aquarium and gets away from the cube or rectangle shape aquarium. The three sided Juwel Trigon corner aquariums and cube shaped Juwel Lido Aquariums will find a spot into tight locations where an aquarium will liven up that area. All supplied with the latest Juwel lighting and equipment.
Nano Aquariums are small size aquariums. These can be either Tropical or Saltwater aquariums.
Great for keeping small fish or dwarf shrimps, A nano tank can fit in smaller spaces to liven up any area of the home or office.
Nano aquariums should be used by aquarist that are familiar with aquariums as the smaller volume of water make it more challenging to keep than an aquarium with more water volume. These small aquariums are challenges to aquarium keepers to see how well they can balance the water quality in a small volume of water.
A complete plug and play system with cabinet and equipment, Red Sea Max aquariums are ideal for marine based aquariums. The fully featured coral reef aquariums make reef keeping easier and more enjoyable than ever before.
With only a single power point needed the aquariums come with full control panels and timers to control your aquarium. Red Sea also has a vast Reef Care program to make sure that your reef aquarium will thrive and grow to a spectacular sight.
A Sump Aquarium allows all the accessories of fish keeping be kept in a sump tank that is usually placed in the cabinet below the main aquariums to allow for the display tank to be clutter free.
Used mainly in reef marine system, The sump below is the main filter for removing and breaking down waste. It also allows equipment such as heaters, protein skimmers and reactors to be housed and not seen.
The Sump Aquariums will also have an advantage of additional water volume to help dilute and toxins or problems in water quality due to holding the larger amount of total water volume.
Plastic Aquariums are a cheap and affordable way to get started in keeping fish. Plastic aquariums are generally offered for when you win a goldfish at the carnival. Plastic Aquarium come in all shapes, colours and sizes. All plastic aquarium should have filtration included or your fish will not survive. Seahorse Aquarium will not sell an aquarium of any sort without filtration. It's like being on the moon without oxygen - Give your fish a chance and make sure you plastic aquarium or any aquarium has some form of filtration.
Aquarium Bargins and Aquariums for Sale
In this section of Aquarium Bargins and Aquariums for Sale we have different tank packs which offer great value for money. These packs give you most of what you need to get started with your aquarium. Also Fish tanks for sale will be found here when we have clearence of tanks at special prices.
Ehiem offer the highest quality in harmony with great designs with superior convenience and reliability Ehiem have decades of experience in the production of aquariums and aquarium furniture.
All aquariums and stands are made in Germany.
Ehiem offers a wide choice of aquariums and furniture designs with a variety of possible combinations that can satisfy every taste and every environment.
The Ultimate Unique Aquarium The biOrb fish tank combines the looks of a traditional fish bowl with the performance of a 'hi-tech' and built in filtration aquarium. All biOrbs fish bowls incorporates a clever and easy to change filtration system that has been designed to provide maximum benefits to both fish and fish keeper.
biOrb Fish Tanks is a fantastic alternative for hobbyist looking for something a little different and easy to maintain.
Anything blocking the aquascape is unnecessary.
This is our ideal image of the aquarium, because the Nature Aquarium layout is a piece of living art where an entire ecosystem thrives with a beautiful aquascape decorated by colorful aquatic plants is expanding to infinity in your imagination.
A Simple design aquarium built by silicon connections without any frames became possible by the high production technique and quality of the silicon. Cube Garden series became a new standard for the aquarium, and it, indeed, embodies ADA's spirit of product development.
Aquarium Cabinets which are made by the same manufacture as your aquarium will always give you the best fit and matching pieces of furniture. Some manufacturers will only honor the warranty if the aquarium is sitting on the matching cabinet. All Aquariums that Seahorse Aquariums sell offer the matching cabinet with the aquarium. The price of the matching cabinet will be in the same page as the aquarium. If you are looking for a cabinet only - then this section will have prizes for the cabinet of the aquarium.
Aquarium Backgrounds enclose off the back of the aquarium so you can not see through the back glass fo the aquarium. This is useful when the aquarium is against the wall. This will also set a theme to the aquarium. backgrounds can be in the form of a plastic printout and also can be fake rock or trees that cover the back wall of the aquarium.